About Us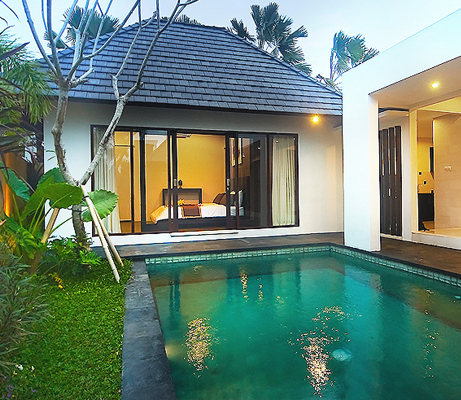 The Adnyana Villas & Spa have two bedrooms in each villa complex, and The Adnyana Villas & Spa also have the option of a lease up to four bedrooms (whole villa) with a maximum capacity of three persons per bedroom.
Located between rice fields and Balinese temple, present a peaceful and calm atmosphere. The sound of chirping birds come from a large banyan tree which is located right next to the villa, and made a highest of the tranquility. Landscape of Bali rice field and a strong tradition in the neighborhood there will always be beautiful to impress The Adnyana Villas & Spa
The Adnyana Villas & Spa only 15 minutes drive to Seminyak, where there are many international restaurants and boutiques complete to shopping. 10 minutes into the Kerobokan area where a variety of unique furniture.
Holiday at The Adnyana Villas & Spa is the an unforgettable experience among Balinese people life, see and fell all around its make guest is not only just stayed even float in the rhythm of Balinese culture.
Armed only by honesty, The Adnyana Villas & Spa are perfect for resting and relaxing place for families or couples. Amenities of the house include complete communications facilities, satellite television, DVD player, audio system, and multiple living areas. The Adnyana Villas & Spa is looked after by a large household staff that strives to cater for every whim or desire.
Welcome by a huge gate directly first step to The Adnyana Villas & Spa with a smile of our staff polite will always hope this is most beautiful memories for our guest and see them to comes again.

The Adnyana Villas Staff
One Manager :
Meets and greets guests on arrival, leads the staffing team to meet the expectation of each guest.

Three Villa Attendants :
In charge for housekeeping and laundry.

One Cook :
Trained in local cuisine and in charge of market shopping and meal preparations.

Three Security Guards :
On-duty to ensure the safety and security of the guests and the area.

Two Gardener & Pool Attendant :
Work discreetly to maintain the landscape and the pool without distracting the guests.